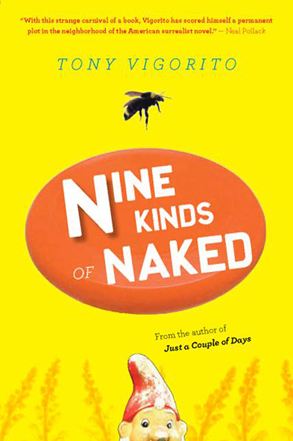 I just finished up Nine Kind of Naked by Tony Vigorito. Great read! Two parts plot with one part philosophy, Vigorito pulls it all off with tons of laughs. Anyway, there were just too many good quotes to pass up, so here are a smattering.

"The spontaneity of the spirits is far more trustworthy than the deliberations of the intellect."

"If you're not inspired, you are expired."

"Don't just seize the day, my friend. The day is long. Seize the second!"

"Anyway, the trick is simply this: No matter what happens, keep your heart open. Wide open. The heart is made of love, and love is indestructible, and only the arrogance of ego would presume that it requires protection. To open your heart is to reduce your ego, and this is the only magic that is ever required to experience the naked truth."