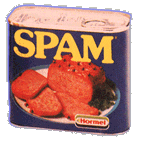 As some of you noticed recently, Blog du Wren was "validated" with a barrage of blog spam. Many questions have arisen from this about why, how, etc. I thought now would be as good a time as any (better even, because I don't have anything of value to post about) to examine the phenomenon of blog spam.

Wikipedia has a great write up on Spam in blogs, although it is a bit skewed towards eliminating it rather than explaining it. Basically, an automated script goes around posting comments on blogs with a link to their own site in hopes of raising their site's search engine rank. (Search engine ranking is based on how many sites link to yours, among other things.) These scripts recognize a site as a blog (or guestbook, etc.) by their format and programming (which leads to my feelings of validation because BdW is put into the same formatting/programming arena as the professional blog software packages).

What has been very interesting is to see where these spam comments come from. With the IP tracking I added as part of the BdW 2.0 revamp, I have the ability to look at the comments last known transfer point. This is what I came up with: RUSSIAN FEDERATION, CHINA, INDIA, PAKISTAN, POLAND (with repeats from Russia and India).

In an attempt to spare us all from this initially interesting but quickly annoying phenomenon, I tweaked the way I do comments. Since every little change I make might make everything stop working, I would appreciate if you keep your eyes open for any bugs, esp. you mac users out there. Cheers!